Marriage: Mary Brookshire in 1830 in Franklin County, Tennessee, USA
General Notes:
BIOGRAPHY

April 1, 1835, Jeremiah (Jerry) Hooker, his wife Mary, their two children, Jane and William, in company with Mary's sister Rachel, her husband William F. Gibson, and sons, George and Thomas, left Tennessee to migrate to Missouri. They loaded their farm tools, which consisted of two breaking plows and two bull tongue plows, into their 2 two-wheeled carts of Virginian type bodies. Both families had oxen, one yoke being milk cows that furnished the milk. One cart carried the tools, and the other conveyed the two families. They also had axes, broad axes, crosscut saws with which to make boards to cover their huts, and a two-inch auger for boring holes to pin together a raft.

Leaving Nashville, Tennessee, they traveled up the Mississippi River on the east side, knowing the swamps and Ozarks of Missouri were on the west side. After several days they came to the point that is now Crystal City and went into camp to commence building a raft on which to cross the Mississippi. After three weeks of labor and toil, the task was completed. They used bed clothing for sails to tide them across the river. One fair morning, the wind being in their favor, they launched our with pie poles for oars.

The trip went fine for a while, but about the middle of the river the wind reversed and down the river they went for nearly a hundred miles where they made a safe landing at Old St. Genevieve. All on shore, they knelt down and thanked God that they were safe on shore.

They were now in the heart of the Ozarks. There were no roads, but at once they set out to cut their way to St. Louis -- a distance of 100 miles or more. This was very slow work, but with iron wills they pushed ahead and reached St. Louis in three months. To their great surprise there were at that time but eight business houses -- seven log and one stone -- on what is now Broadway. There were lots or cabins of the weight pole type.

Leaving St. Louis, they wound their way toward the jurisdiction of Linn county for nearly two months. At Cumption's Ferry they crossed the Missouri river on September 6 reached their destination and went into camp two miles southwest of Linneus. There they built a log cabin of the weight pole type and the chimney was of sticks baubed with clay. At that time there were only eight families in Linn County. Here a son was born to the Hooker family and he was John Beckett Hooker.

John Beckett Hooker and Thomas Benton Bowyer were born the same night, but as there were no time pieces to mark the hour and minute there has always been a doubt as to which was actually the first white male child born in Linn County.

Source: The Linn County News
Date: SEP 1933
-----------------------------------------------------------------
In 1837 the Hooker family moved on north to settle west of what later became the town of Browning. The family remained on this farm until their deaths.

Jeremiah was captured (April 6, 1862) and paroled at the Battle of Shiloh. Later in 1862 he was captured at home and hung by Rebs but survived the attempt on his life.

Jeremiah sold land in Rutherford County Tennessee it was filed in Coffee County Tennessee on October 3, 1836 (Deed Book A pages 34,5 and 6).

Jeremiah served as a Pvt. in Co. F of the 23rd Missouri Volunteer Infantry. One record, the 1890 Union Veterans Census, says he served as a Sergarent in Co. F of the 1st Missouri Cavalry.

The South Hooker School was located on Jeremiah's farm and is still standing today (1998). 152
Research Notes:
1880 US Census (Jackson, Linn, Missouri) states that Jeremiah's father was born in Missouri and his mother in Pennsylvania. Missouri is almost certainly incorrect for his father. 71
Birth Notes:
Greenville area
Burial Notes:
82 Years, 10 Months, 15 Days
Life Events:
1. Occupation: Farmer & Teacher.
2. Church Affiliation: Baptist.
3. Military: Civil War: 1st Regiment, Missouri State Militia Cavalry, Private, Company C. F (Union).
4. Census: District 50, 20 Oct 1850, Linn County, Missouri, USA. 153
5. Census: Township 60 Range 21, 21 Jul 1860, Linn County, Missouri, USA. 154
6. Census: Jackson Township, 20 Aug 1870, Linn County, Missouri, USA. 155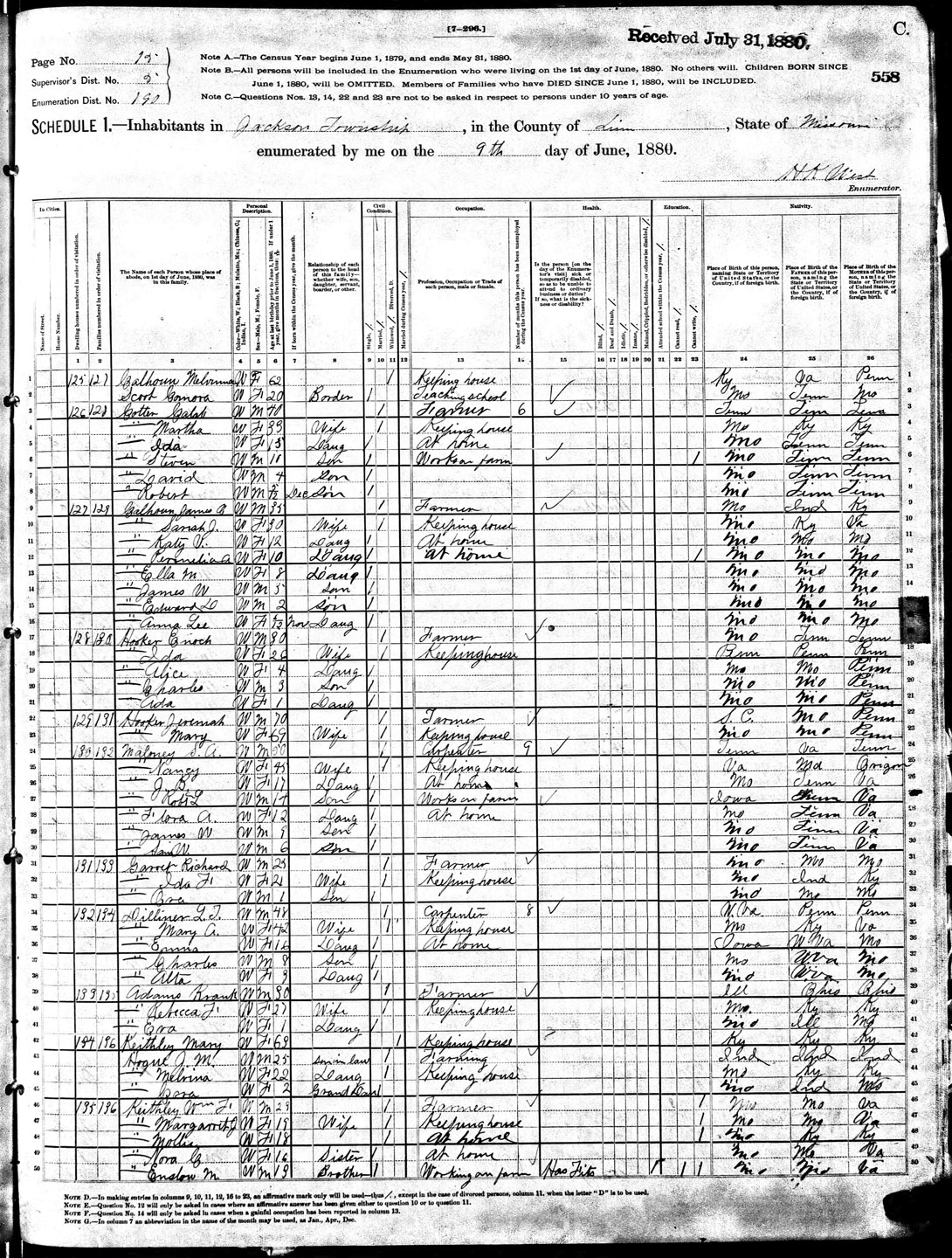 7. Census: Jackson Township, 9 Jun 1880, Linn County, Missouri, USA. 71
Jeremiah married Mary Brookshire, daughter of Thomas Brookshire Sr. and Rebecca Wyatt, in 1830 in Franklin County, Tennessee, USA. (Mary Brookshire was born on 20 Aug 1810 in Haywood County, North Carolina, USA,71,151,156,157 died on 20 May 1888 in Linn County, Missouri, USA 151,156,157 and was buried in Hooker Cemetery (Browning, Linn, Missouri, USA) 151,156,157.)